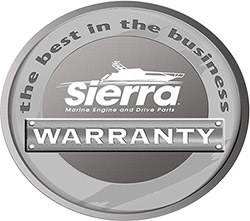 SIERRA INTERNATIONAL INC. ("SIERRA") warrants its products to be free of defects in workmanship and materials for the useful life of the product (the "Warranty"). If a SIERRA product fails to comply with the Warranty, SIERRA will repair or replace the defective product f ree of charge. The Warranty is subject to the additional terms, conditions and limitations set forth below.
Warranty Claims for Professionally Installed Products:
For any SIERRA product that was originally installed on a vessel by a dealer or other professional installer that fails to comply with the Warranty, in addition to repairing or replacing the product free of charge, SIERRA will also reimburse the customer for reasonable labor charges incurred to replace the product, and reasonable towing and other similar incidental expenses incurred as a result of the failure of the product to comply with the Warranty. Labor will be calculated based on the installer's posted shop rate that is competitive with their local market rates. The original work order along with the original invoice and a copy of the new re-work order must be provided to SIERRA to file a claim for reimbursement of labor expenses. Towing charges will also be paid based on reasonable and customary rates in the local trading area. A copy of the original invoice for the towing service must be provided to Sierra to file a claim for reimbursement of towing expenses. 
All Professional Installer Warranty Claims Must be Submitted in Accordance With The Following Procedure: